The Wiltern Seating Chart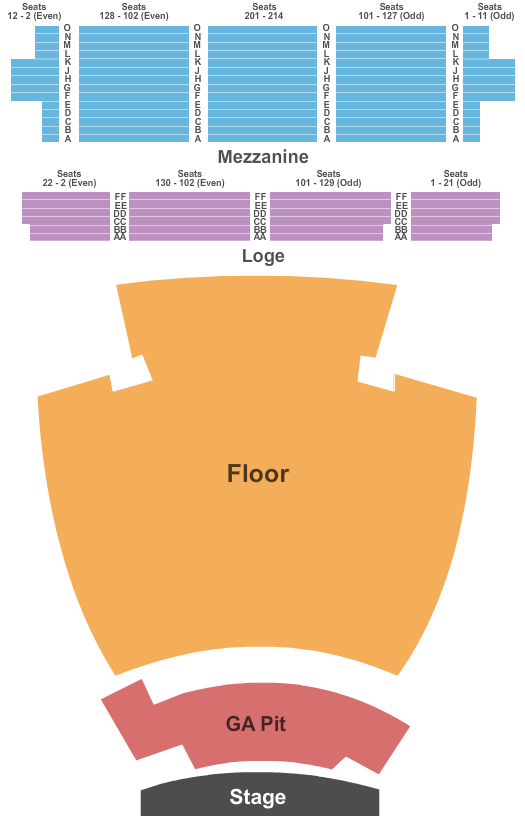 The Wiltern is an Art Deco landmark at the corner of Wiltshire Boulevard and Western Avenue in Los Angeles, California. The Wiltern boasts a grand 55-foot-wide stage that is surrounded by stunning interiors painted in rose, green, and gold. Its spacious design guarantees a high-quality sound experience, no matter which seat you choose! The image above shows a detailed illustration the Wiltern seating areas. For a full list of events, please see the The Wiltern.
General Admission – Floor
The Art Deco theater spans 11,000 square feet and consists of five tiers, including the Loge and Mezzanine sections fit with vintage red velvet theater seats and an open General Admission Floor (with no stationary seats).
Mezzanine – Seating
Depending on the arrangement, the theater's seating capacity can range from 1,200 to 4,000 seats.
"What I love about the wiltern is you don't have to get there too early and still get a great view. Got in line 30 minutes before doors opened" – A view from my seat
Accessibility
Wheelchair-accessible seating is located at the front of level 2 which is close to the stage. Those who require these seats are guaranteed to have unobstructed views of the event and also have the opportunity to purchase adjacent companion seating (subject to availability).
All venue restrooms, concession stands, and merchandise stands are accessible.