The Wiltern | Los Angeles, California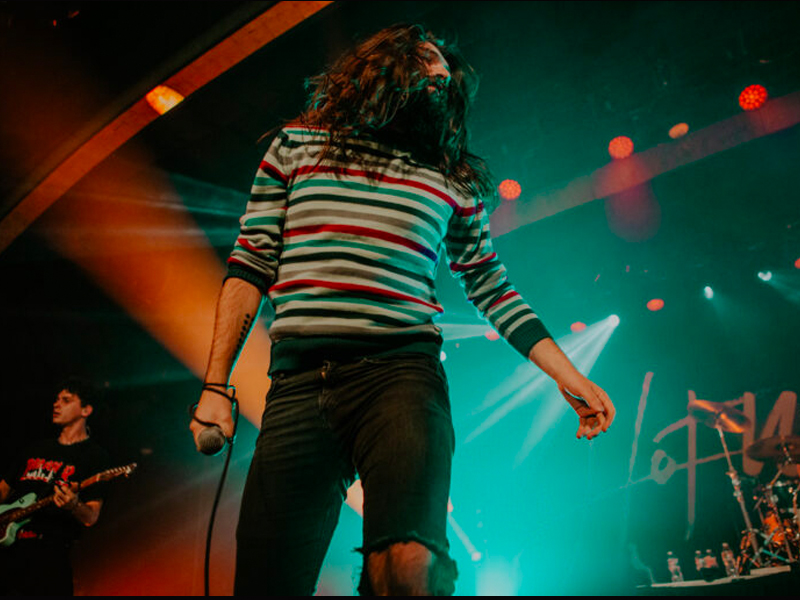 It's 2023, and you finally realized that emo is not just a phase … or is it? Well, if you are in your late 20s and still think and feel emo, it certainly isn't a phase — it's a freakin' lifestyle! And there is nothing wrong with that. In fact, it is meant to be celebrated. And what is more fitting than celebrating it by immersing yourself in a concert experience from one of the most predominant punk-emo bands in the 2010s: Hot Mulligan. Join hundreds of fans in jamming to songs like "Equip Sunglasses" and "Shhhh! Golf is On," "Featuring Mark Hoppus," "BCKYRD," and many others from the Michigan-based band. Known for their heart-wrenching lyrics and raw energy in their concerts, Hot Mulligan is sure to give one hell of a show that will stay in your memory in the years to come. The electrifying fusion of pop-punk and emo will make you feel myriads of emotions. Joined by Heart Attack Man, Spanish Love Songs, and Ben Quad, the Tades Sanville-led band won't disappoint in making The Wiltern a haven of emo-punk extravaganza this December 2. Score your tickets today by clicking the "Get Tickets" link.
Formed in 2014, Hot Mulligan is one of the successful emo bands that emerged after the emo revolution took the music world by storm in the 2010s. Although one might argue that the band seemed to be in the wrong decades, where the likes of KPop boybands and girl bands dominate, Hot Mulligan proved they are not to be overlooked. Just after the release of their debut EP in 2015, the band, which is currently comprised of Nathan "Tades" Sanville, Chris Freeman, Ryan "Spicy" Malicsi, and Brandon Blakeley, proved that there is still a market for punk-emo bands in a pop-dominated music industry.
With songs that appeal to both Millenials and GenZs, Hot Mulligan penetrated the radio waves with songs like "I Fell in Love with Princess Peach," "How Do You Know It's Not Armadillo Shells?," "Feel Like Crab," and "The Soundtrack to Missing a Slam Dunk," among many others. Although they did not reach the charts with these songs, the songs' popularity was enough for them to stay relevant. They released their first album in 2018, entitled "Pilot." This was followed by their sophomore album, "You'll Be Fine," released in 2020.
Over the years, the band was able to tour around the United States. They had their first headlining tour in 2019, along with other artists Belmont, Kayak Jones, Fredo Disco, and Future Teens. They also were able to perform alongside other significant bands on the "Pop Punk's Still Not Dead Tour," including New Found Glory, Less Than Jake, and LØLØ.
This year, the band released its third studio album, "Why Would I Watch," under Wax Bodega. The warm reception of fans and critics for the album is promising and ensures that this will be a major success for the group. In celebration of this another milestone in their career, the Lansing, Michigan-based band is embarking on a tour. Named after the album's name, the "Why Would I Watch Tour" will not be stopping at multiple venues in the United States, Canada, United Kingdom, Netherlands, and Germany. With groups like Heart Attack Man, Spanish Love Songs, and Ben Quad as opening acts, fans of The Hot Mulligan are in for a real treat with this upcoming tour.
Catch them this December 2 at Los Angeles's The Wiltern for a night filled with incredible songs, heartfelt vocals, and infectious melodies. Grab your tickets as early as today because they will likely sell out soon. Click the "Get Tickets" link to secure one for you and your concert buddies!