The Wiltern | Los Angeles, California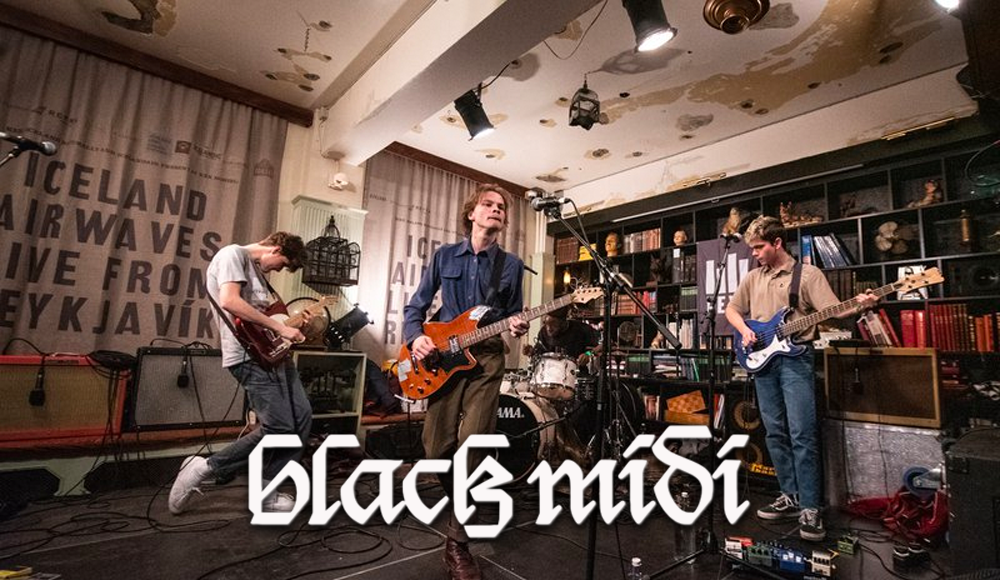 English rock band Black Midi is extending its series of shows, adding a showstopping performance at The Wiltern on Tuesday, November 21st this fall. Following the release of its acclaimed new LP "Hellfire" and a new live album, "Live Fire" last year, the experimental rockers have hit the big stage on a couple of tours, sharing their newest bangers, "Sugar/Tzu", "Eat Men Eat", and "Welcome to Hell" from Hellfire. Every Black Midi show also features their best hits and crowd-favorite anthems. Known for their progressive and diverse influences of rock, the band's live shows never fail to showcase each member's musical playfulness. "Live Fire" serves as a testament to how they switch things up - experimentation and creativity running through their veins. As the band's hottest album to date, it's definitely a live experience worth every penny. Greep's distinct vocals alongside Picton and Simpson's guitar-slammin' and drum-smashin' talent always sends everyone to rock it all out. Make sure to mark your spots at Black Midi's special Wiltern set by booking your tickets now!
With a new record that soared across US charts, English-rock band Black Midi is coming to town. Following the big release of "Hellfire" and a series of supporting shows last year, the experimental rock legends are back on the road, dropping a slew of extended tour dates. Moreover, they also released a buzzing new EP "Cavalcovers" featuring a bunch of tracks served in Black Midi-style, including those of Taylor Swift, King Crimson, and Captain Beefheart. Blazing through 2022 with a slew of hits off of their third LP and an EP reimagining some iconic hits, Black Midi is definitely an interesting band to watch out for.
Welcome to hell. Setting the stage on fire, Black Midi's roster of shows are definitely bound to be one heck of a rockin' night. "The young trio's sound is intense and unpredictable, constantly creating new angles like a fighter with agile footwork," Spectrum Culture shared in a review of their NYC show back in 2022, praising the band's shifting styles, blending rock into a wide array on influences. "This ever-shifting style garnered black midi a dedicated following and brought together a New York City crowd that matched the rowdiness of the band, tirelessly moshing to the rhythm of their guitars."
At every show, the band throws in a slew of their new bangers, their biggest hits, and a couple of big surprises on the set. Although, despite staying true to what makes Black Midi special - those big surprises, the band definitely grew and transformed into the beautiful diverse mess it is today. From fan-recorded videos in 2018, their music and production surely elevated to the next level.
"Obviously, you're talking about the time period between 19 and 23 or even since when we started the band at 17 or 18," Picton shared in a conversation with Under The Radar Magazine. "You almost become a different person in that time period anyway. So it's inevitable, especially when you have a voracious appetite to listen to as much music as possible, you'll end up exposing yourself to as much as you can, whether that's music, books, film, theater."
Hellfire definitely proves what he's talkin' about. From jazz fusion to flamenco, and '60s jazz-pop to tango. Every track has its own flavor that stays true to the Black Midi brand - a diverse mess of sonic beauty. Moreover, their live sets elevate the whole experience. Serving unique weapons with "Dethroned", "Hogwash and Balderdash", "Chondromalacia Patella", "Sugar/Tzu", and so forth, you're in for a rockin' night!
As Black Midi conquers The Wiltern on November 21st, make sure to mark your spots by booking those tickets now!